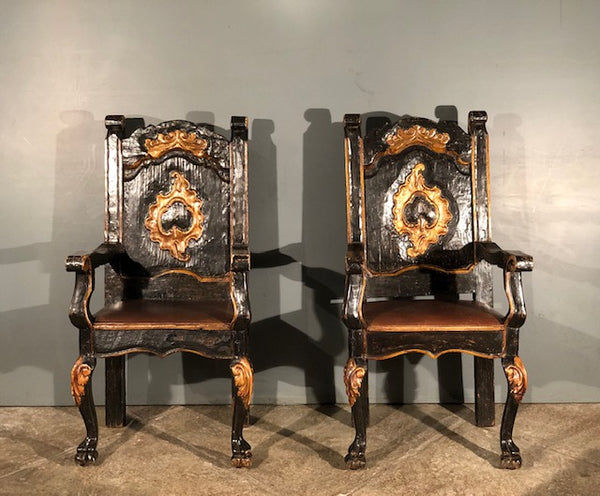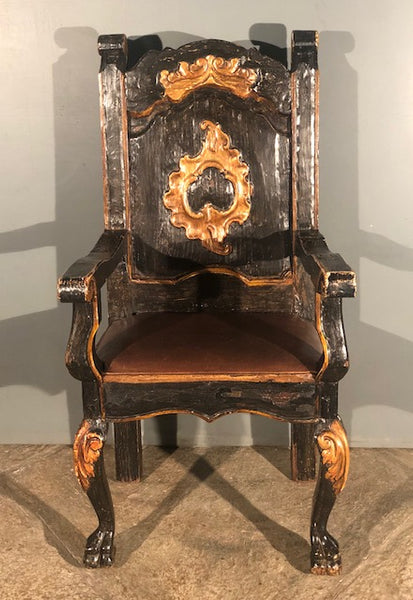 18th Century Pair of Frailero Chairs
One of the first pieces of furniture fabricated in Colonial Latin America were chairs. Perhaps one of the first bastions of civilization is to have somewhere to sit that is off the ground and not atop a rock. Primitive to elegant, Holler & Saunders chairs are the most beautiful you will find representing Colonial America. The great thing about the early citizens from Mexico to Peru to Argentina were usually trying to copy a style they were familiar with. Fortunately the indigenous carpenters and artisans were not as well versed in building and carving as their European counterparts from Spain, Italy, and France which is exactly what makes colonial style colonial. a simplified and perhaps cruder hand gives colonial furniture its "primitive elegance".
This pair of chairs is a prime example of that tradition. Slightly out of proportion, a slight stiffness, magical color, and the ever present silver and gold leaf.
- Ayacucho, Peru
- Late 17th, early 18th century
- Carved Aliso wood with paint and gold leaf
H - 48"
W - 24.75"
D - 22"
Seat H - 20.5"